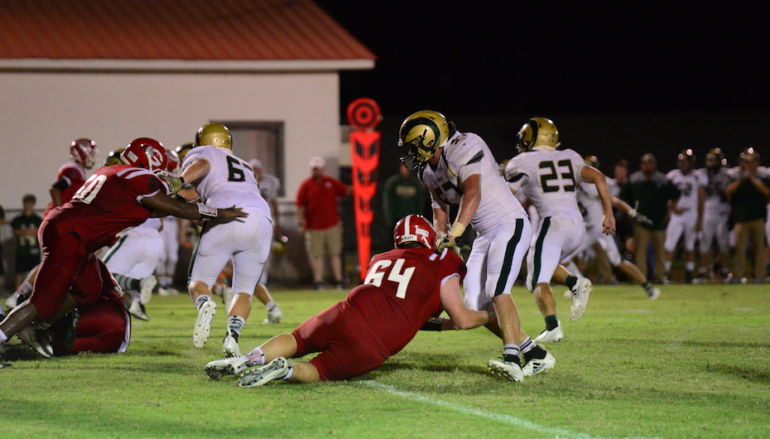 Rams Rule Over Bulldogs
By Marla Jones, Sports Editor • marla@southerntorch.com (Photo by Kristy Gallagher)
GASTON, Ala. — The Sylvania Rams cashed in on their first victory of the season with a 24-8 win over the Gaston Bulldogs.
Days before surgery to repair damage from last season, Kris Shavers stepped on the field and gave the Rams their first touchdown of the night with a 1-yard dash into the endzone. The kick by Christian Andrade was good.  The Rams went up 7-0.
With 9:17 remaining in the second quarter, Nathan King took a fumble back for 25 yards to score. The PAT by Andrade was good, giving the Rams the 14-0 advantage.  With :16 remaining in the first half, the Bulldogs scored their only touchdown for the night,  and went for two.  Going into the half, the Rams held on to a 14-8 lead.
The score did not change until the fourth quarter when Andrade made a 34-yard field goal, to broaden the Rams lead to 17-8.  Style Hughes intercepted the ball, two plays later.  This set up a 10-play drive, that was capped off by a another Shavers touchdown.  The point after attempt was good, giving the Rams the 24-8 win.
Kris Shavers walked off the field for the final time with two touchdowns on five carries.
Sylvania will host the Plainview Bears in Class 3A, Region 7 play in the Sand Mountain Showdown on Friday night.